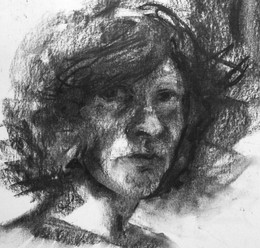 Drawing is fundamental to my work and I use this activity to try and express lived experience. I am interested in how we are connected emotionally, physically and intellectually to each other and to the world around us, and my work is an attempt to find a substantial form for this connectivity, a way of making images that speak of the ambiguous nature of intimacy, emotion and our place in the world.
I make drawings directly from life, enjoying the challenge of working quickly and intuitively, to capture the vital quality of the subjects that inspire me. Studio works are developed from my collection of sketchbook drawings and photographs, and it is with these images that I attempt to evoke the essence, or story, of a subject through an exploration of mark making and composition.

If you have any questions about my work, or would like to enquire about commissions, exhibitions, or any of the courses I tutor on, please do get in touch via my contact page.
Education:

Norwich University of the Arts, MA Fine Art (Distinction), 2017
University of Southampton, BA English (First Class Hons), 2001
Bournemouth & Poole College of Art & Design, Higher National Diploma in Natural History Illustration (Distinction), 1992
Exhibitions:
2019 Sir John Hurt Art Prize, Holt Festival, Auden Theatre Foyer, Gresham's School, Holt
2019 'Meeting With Myself', St Peter Mancroft Church, Norwich
2019 Refresh Art Award, 5th Base Gallery, 23 Heneage Street, London
2018 'Recent Works', Anteros Gallery, Norwich
2018 Connection: Open 2018, Handa Gallery, Wells-next-the-Sea, Norfolk
2017 Hermione Hammond Drawing Award, Cass Art, Islington, London
2017 The Bishop's Art Prize, The Hostry, Norwich Cathedral
2016 'Dialogues', St Georges, Norwich University of the Arts
2013 'Paint Out Norwich', The Hostry, Norwich Cathedral
Published Texts:
Monahan, E. (2016), 'Drawing pareidolia: Journal extracts reflecting on practice-based research', Journal of Arts Writing by Students, 2: 2, pp. 127-40
Professional Practice:
2019 Tutor on 'Cultivating a Reflective Practice for Creative Development' workshop
2019 Co-founder and tutor on 'Just Draw It' courses
2018 Connection: Open 2018, 'First Prize'
2018 Drawing Tutor, Anteros Arts Foundation, Norwich
2017 The Bishop's Art Prize, 'First Prize'
2017 Hermione Hammond Drawing Award, 'Highly Commended'
1992 – 2015 Illustrator (clients include OUP, Channel 4, Ladybird, Orchard Press, Dominie Press and QED Publishing)