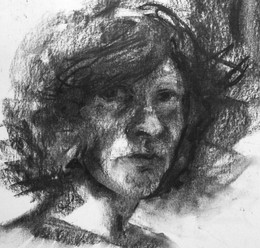 Artist Statement
A figurative artist, Liz Monahan's paintings and drawings are almost entirely generated from watching and recording human interaction. They are a folding of life into work that draws deeply on people's connection with each other and their surroundings, and attempt to express something of the ambiguous nature of intimacy, emotion and our place in the world. Using a synthesis of stimuli, from the written word to photography, sketchbook drawings to memories of personal experiences, the images are about our ever-shifting connection with others and the endless intricacies of looking and being looked at.
For Monahan, an image must show a self-contained, independent world, a world of thought and feeling; how that world is conveyed, whether through broad gestural paint strokes or sketchy marks using pastel or charcoal, is entirely dependent on the feeling she is attempting to evoke. Cropped, sometimes off-kilter compositions bring to mind the qualities of a 'snapshot' or the destabilising sensation of a half remembered occurrence. Movement and life in the application of paint and in the marks made on canvas or paper reinforces the sense of the artist's physical engagement in the works' making.
Biography
Liz Monahan (b. UK) is a figurative artist and illustrator who graduated from Norwich University of the Arts with an MA Fine Art in 2017. During that year she won The Bishop's Art Prize and was highly commended for her contribution to the Hermione Hammond Drawing Prize. She was also selected for the MA and Other Postgraduates 2017 exhibition at the Atkinson Gallery and won first prize in Connection: OPEN, 2018 at the Handa Gallery. In 2019 Monahan was selected for the Refresh Art Award exhibition at the 5th Base Gallery, London, and in 2020 had two drawings selected for the ING Discerning Eye. She is drawing tutor for a local arts organisation and also teaches on reflective practice workshops. She lives and works in Norwich, UK.